Eco Tourism
We have started with 'Farm Stays' at our organic farm for guests who would like to stay at our farm & experience life at a working organic farm. We have 2 comfortable double occupancy suites, each with an attached bathroom & a private patio. One of the suites also has an attached dining with it. The suites are air-conditioned & heated to offer a comfortable stay as per the weather, and there is a dedicated kitchen with these suites for cooking fresh & home made meals from our home grown organic produce by a trained cook. Also there is arrangement of stay of accompanying driver or helper. We also book lunch events for guests who would like to spend a few hours at our farm and we cook fresh organic meals for our guests. Similarly we also host visits from students who would like to spend some time at our farm to learn about integrated organic farming, and also enjoy a fresh organic meal or snack.
A brief detail & historical significance of our location, & details for possible excursions or nearby points of interest is as below.
Fatehgarh Sahib
Fatehgarh Sahib in Punjab is a district named after Sahibzada Fateh Singh, the 7 year old son of Guru Gobind Singh ji. The town features historic Gurudwaras, including the Gurudwara Fatehgarh Sahib marking the location where Sahibzada Fateh Singh & 9 year old brother Sahibzada Zorawar Singh refused to convert to Islam & fearlessly accepted being bricked alive by the mughal army under Wazir Khan during the ongoing Muslim-Sikh war of early 18th century. The town experienced major historical events after the martyrdom of the sons on 26th December 1705, with repeated change of control between the Sikh and Muslim rulers.
The district has many other gurudwaras of historical significance such as Gurudwara Jyoti Sarup & Gurudwara Shaheed Ganj. Fatehgarh Sahib also has Rauza Sharif, which is a dargah dedicated to Shaikh Ahmad Faruqi Sirhindi, also known as Mujaddid Alf-Isfani. Sunni Muslims consider the dargah as the second Mecca.
Haveli Todar Mal, situated close to Fatehgarh-Sahib, is known as the Jahaz Haveli. It was once the residence of Diwan Todar Mal. He honoured the Sikh community by buying the land to cremate the body of Sahibzada Zorawar Singh.
The Aam Khas Bagh was constructed for the Mughal Emperor Shah Jahan to stay while travelling to Lahore. Apart from the above places of interest, there are the tombs of nabis at Bras, Mata Chakreshvri Devi Jain Temple at Attewali, Sant Namdev Temple & Mosque of Sadhana Kasai.
Festivals & Fairs.
Every year between 11th and 14th of the month of Poh (usually about December 25 to 27), Fatehgarh Sahib is the pilgrimage site for many Sikhs who visit it to remember the martyrdom ,locally known as Shaheedi Jor Mela of the sons of Guru Gobind Singh. Food
The food is prepared fresh using as much home grown produce as possible such as fresh vegetables, wheat, basmati rice, pulses, milk, paneer, farm raised eggs etc. and even other organic grocery items that are not grown at the farm but are available in the market are used in the fresh meals.
Facilities
Parking
Attached washroom
Satellite TV
Running hot & cold water
Well-furnished kitchen for self-cooking or meals cooked by attending cook
Courtyard and garden
Car Hire
electricity backup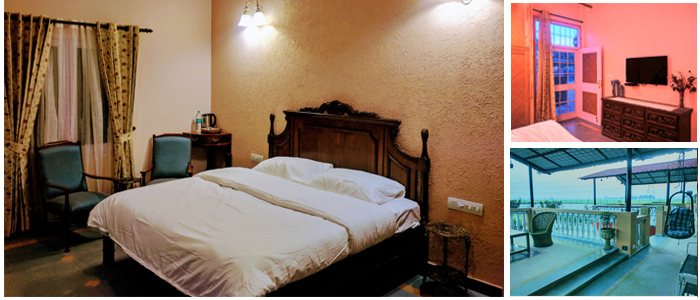 Attached washroom
Air-Conditioning/heating
extra beds
Library/reading room
dining space
first aid
lockers
refrigerator
Wifi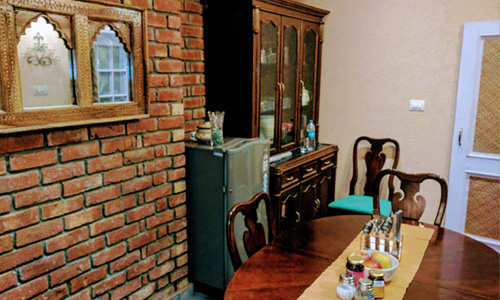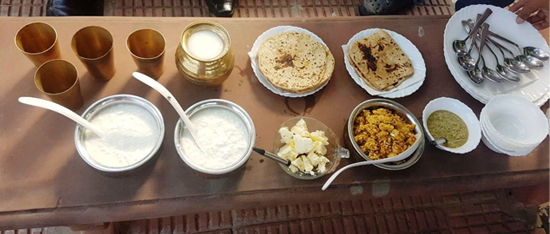 Activities
Organic Dairy with both Holstein & Sahiwal Cows
Goat Farm
Organic Vegetable farming in Net houses
Multi fruit Orchard
Cycling
Morning walk to village
Playing cards/carrom/chess
Guest lounge with Satellite television & fireplace
Library
Point of Interest/Excursions.
Fatehgarh Sahib historical gurudwaras visit (15 mins)
Patiala City (handicrafts phulkari/Punjabi jutti etc) & architecture (sheesh mahal/NIS) 25 mins drive
Modern City Chandigarh (1 hour drive)